Description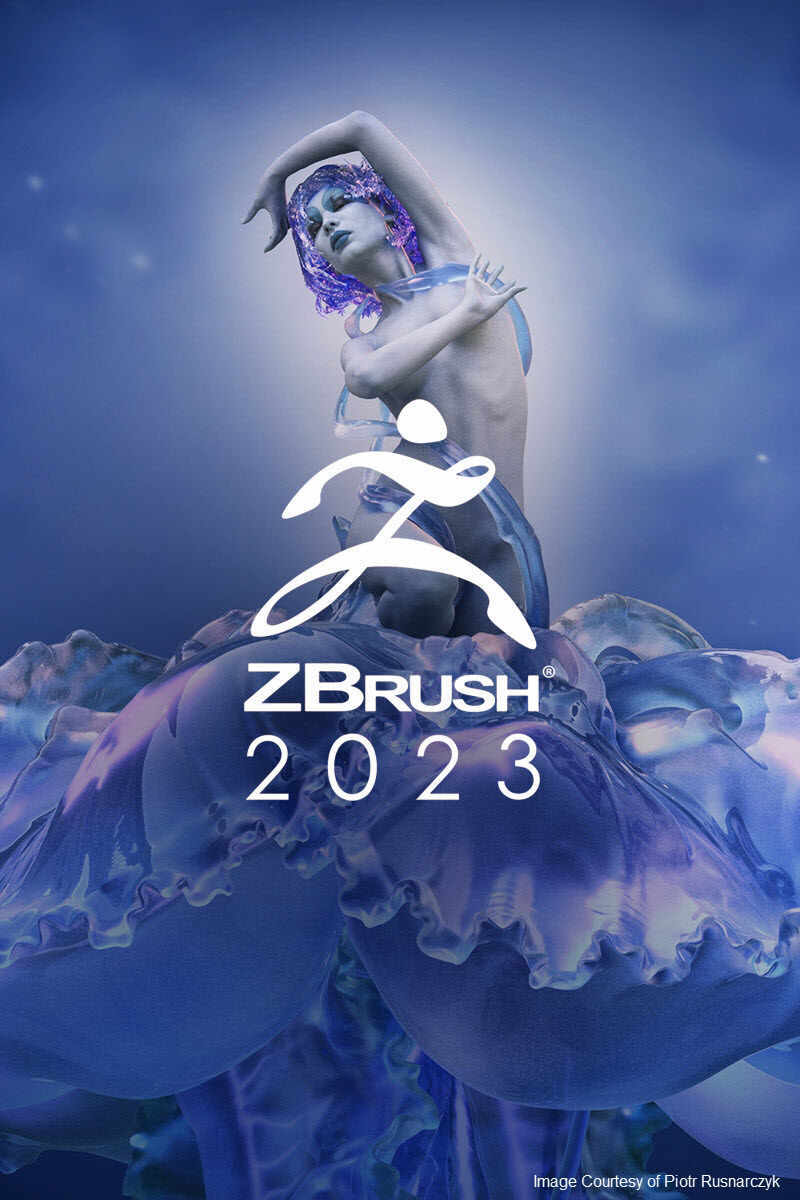 ZBrush 2023 Perpetual License
- License Type: Permanent. Version is 2023. No maintenance included.

**For customers in Hong Kong and Macau only. We are the Authorized MAXON Distributor for Hong Kong and Macau.

**Computers require internet access.
ZBrush, now by Maxon, is an art tool created by artists, for artists. It allows you to create models and illustrations limited only by your imagination, at a speed that allows you to stand out in today's fast paced industry.
This is the latest update to ZBrush, the industry-standard digital sculpting software, delivers dramatic developments that give artists the ability to create high-quality renders with first steps integration of Redshift, explore new and enhanced sculpting workflows, as well as architectural changes to take advantage of the power of M1 and M2-powered Macs.

What's New in ZBrush 2023:
Maxon's development team is bringing world-class rendering directly within ZBrush. This first step of Redshift integration delivers new and exciting workflows to render high-quality images with subsurface scattering and emissive light generation. Redshift for ZBrush supports Standard, Matcap, and Redshift materials for increased realism when creating metal surfaces and caustics for glass. Maxon One subscribers can take advantage of the full power of Nvidia and Apple GPUs for rendering, while all subscribers enjoy pixel parity when using the CPU on any compatible system.
New and Improved Sculpting Tools:
- Slime Bridge: Now artists can use the power of the ZBrush masking system to create complex geometric connections and designs from one masked island to another. Controls for Tension, Bridges, Calipers, and Branches make it easy to instantly create sinewy, slimy connections between any two surfaces.
- Sculptris Pro: More detail where it counts! The latest additions to this already robust tool allow artists to use a slider to increase mesh density in desired areas while also reducing the size of triangles.
- Dynamic Symmetry: Local Symmetry utilizes the Gizmo inside ZBrush to provide the opportunity to keep symmetry within the ZBrush workspace while moving models off the center axis. Users can also control the symmetry line of action while manipulating the placement of assets anywhere in the ZBrush world space.        
- Mask Region: Mask complex shapes with ease thanks to Auto Region. Simply paint indicators in simple or complex shapes to determine areas that should be filled and mask multiple areas with the push of a button.
- Apply Last Action: The Apply Last Action to All SubTools function allows for the application of material attributes, color information, and any other "undoable" operations to multiple subtools inside the ZBrush Tool Palette with the click of a button.
ZRemesher Retry / Keep PolyPaint:
The industry's best automatic retopology gets even better with options to store and compare the results of different settings. Optimize meshes at any point in production with the new option to Keep PolyPaint – seamlessly projecting the existing color onto newly constructed meshes.
Crease Edge automatically detects the most efficient hard edges and "creases" where UV seams should be placed for UV map generation.
ZBrush 2022 continues on the path of creativity and productivity with major new features allowing artists to work even faster and with more freedom. This version carries the ability to experiment and work in a natural way to a whole new level, offering artists greater freedom to express their ideas and discover ways of working that previously have been beyond imagination.
For an in-depth look of the
ZBrush 2022
new features, you can check this out:
Please find the 2021.6 New Features Introduction below:
What's New in ZBrush 2021
ZBrush 2021 introduces a Dynamics system along with Controlled Cloth Sculpting and a revisiting of our Dynamic Subdivision feature. We've also added new features to ZModeler, as well as introducing iMage 3D support to ZBrush and giving it the ability to open native-format files created by ZBrushCoreMini.

The ZBrush engine itself has also been enhanced, finding ways to improve performance across the board. You will find that ZBrush 2021 sculpts more fluidly, as well as taking less time to perform other operations such as DynaMesh.

Enhance your sculpting with a Dynamics system that allows any surface to be contracted, expanded, inflated or draped with gravity. Use masking to pin a portion of the mesh to create a point of interest or use a mask to create a unique interaction that can allow the surface to be rolled on itself. Create realistic cloth folds - even on a low resolution plane. Place your mesh, turn on the collision volume and any desired controls, then watch as ZBrush drapes the cloth mesh over any other visible meshes

Controlled Cloth Sculpting
Special brushes have been introduced which use the Dynamics engine to give unique capabilities for interacting with the cloth surface. As examples, you can choose where folds will lay or simply grab the geometry to move it freely in the work space and create folds in real-time. The ClothTwister brush simulates twisted cloth. ClothWind allows directional movement. ClothPinchTrails will create a seam with pinched cloth wherever your brush stroke takes place on the surface.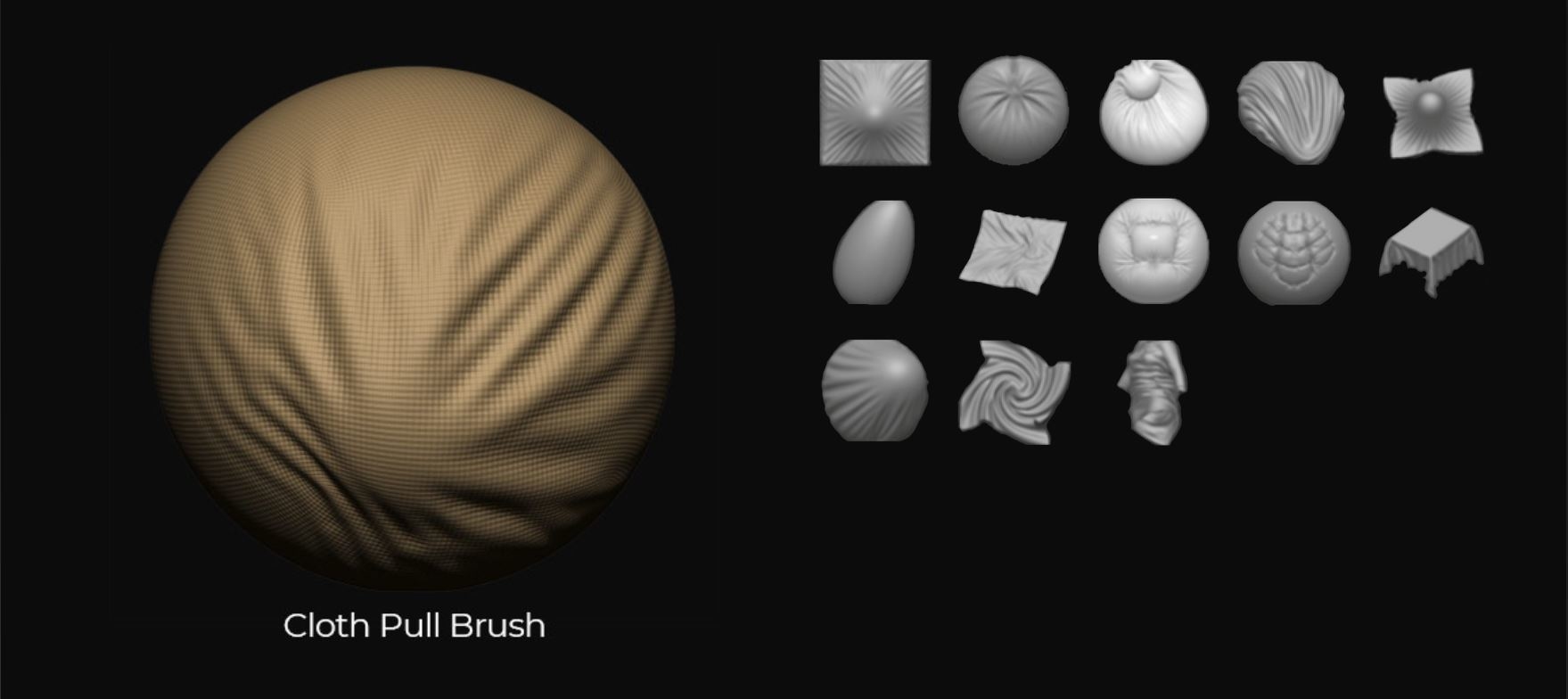 Dynamic Subdiv Revisited
Dynamic Subdiv provides a working preview of your subdivision levels without actually increasing the base polygon count. This feature is now taken a step further by allowing you to add an adjustable thickness to any single piece of planar geometry.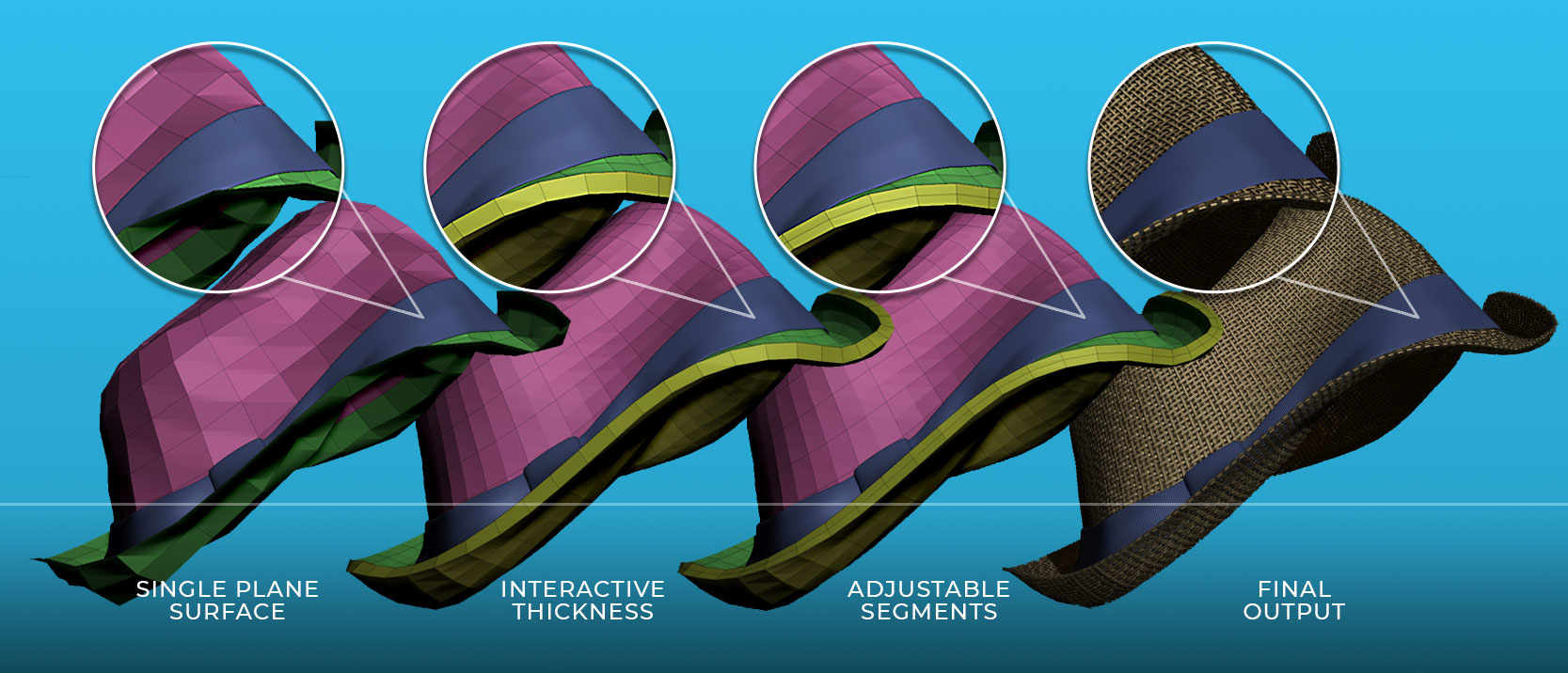 A piece of geometry can also be added to each polygon as a completely interactive instance. Select from the library of presets to make a surface look like canvas or denim jeans. Even select a piece of armor to create repeatable chainmail.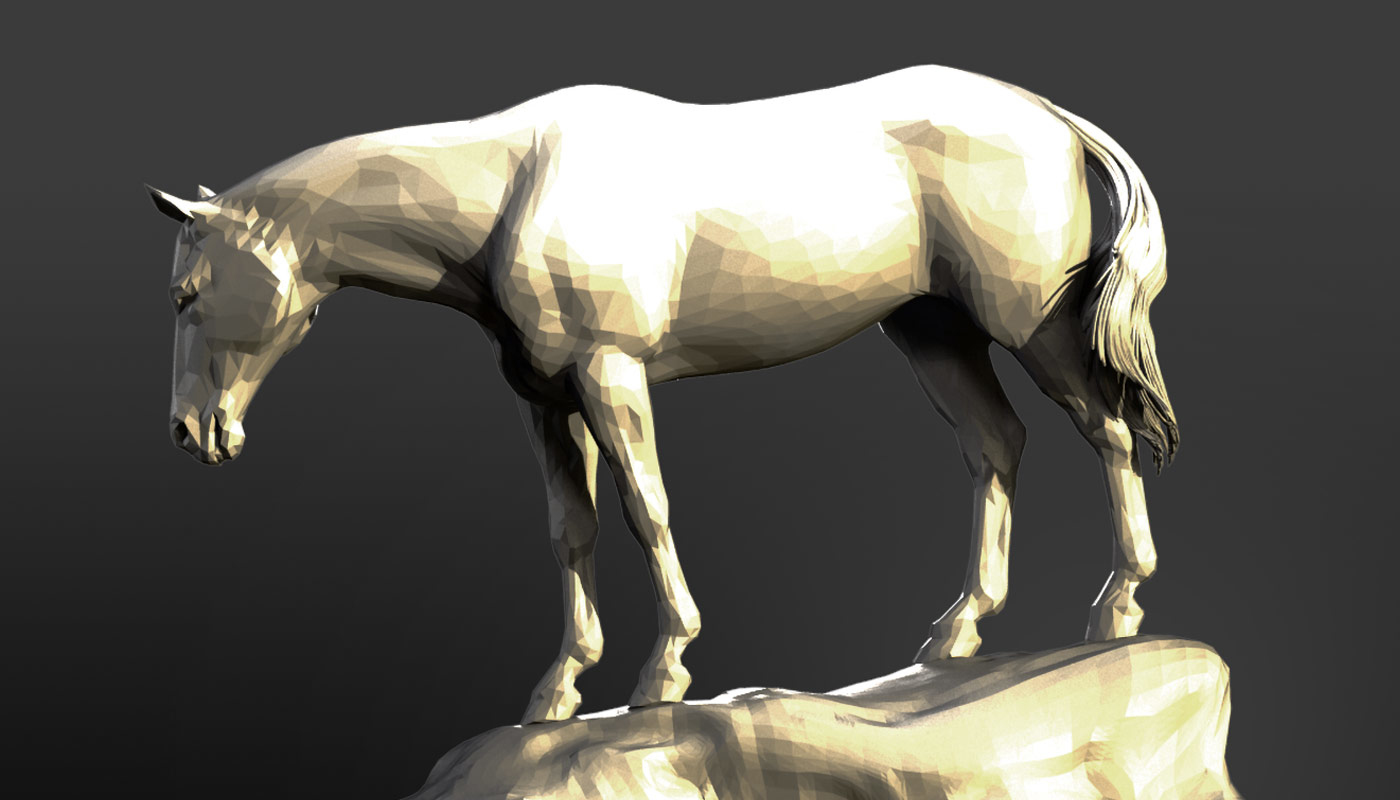 For more ZBrush 2021 features, please visit
here
.
Sculpt and Paint in Morph UV

Have you ever had a difficult time reaching certain areas of a sculpt? With Sculpt & Paint in Morph UV, that is a thing of the past! It's never been easier to apply long continuous strokes across a mesh.
Simply drag your stroke across the surface of any model to capture the details of your sculpt. The captured details can then be used elsewhere on the same model, or on any other model in the future.

Have you ever wished you could undo just a portion of your sculpting without losing everything else that has been done on the model? Now you can! This brush uses your model's Undo History but restricts the effect to the area where the brush is used. It can also be used in the other direction, projecting Redo History from part of one model to another regardless of any topology differences.
Alter your brush to apply details to anything that is directly inline with the brush cursor. For example, add volume to the front and hind legs of a dog or move several vertex points on multiple individual meshes without applying a mask. The infinite depth option can be applied to several brushes.
You Can't Pick Just One Color
Now you can take any PolyPainted or textured model and adjust its color hue, intensity, contrast, gamma or tint on the fly using the new Texture Adjust by Color and PolyPaint Adjust by Color features.
Ready, Set, Analyze & Print
ZBrush 2020 allows you to 3D print straight from ZBrush with new mesh analysis features: Wall Thickness, Real-Time Draft Analysis and Surface Area calculations.
The new From Draft & Real-Time From Draft options give you a fluid approach to preparing models for many specialized manufacturing options such as two-part molding or CNC printing.
Calculate Surface Area
With a click of a button ZBrush can now provide you with the bounding box size, mesh volume and surface area. At the same time, it will check for watertight integrity.
Cam Silhouette & Cam View
With the new CamView feature you will always know the orientation of your model relative to the world axis, providing an accurate understanding of your XYZ space and offering an interchangeable one-click navigation view.