Description

World's Most Versatile Renderer
With a new state-of-the-art framework optimized for physically-based rendering, RenderMan can deliver unmatched flexibility for any production pipeline.
RenderMan Showreel V24 from Pixar's RenderMan on Vimeo.
Production Proven

Not only is RenderMan used for our own feature films at Pixar, it is also used throughout the industry for rendering Visual Effects and animation, making scalability and versatility one of its core strengths.]
That's Show Business
Because RenderMan has been used on every kind of production, the software has already been pushed to every extreme, so it's ready to render anything you can throw at it.  Just take a look at some of these movies...
2020 : A Quiet Place Part II ; Artemis Fowl ; Black Widow ; Clifford the Red Big Dog ; Dolittle ; Jungle Cruise ; No Time to Die ; Onward ; Sonic the Hedgehog ; Soul ; The Call of the Wild ; The New Mutants ; The Willoughbys ; Top Gun: Maverick ; Underwater ......
Pixar Technology
Now you can get out-of-box production tools straight from Pixar Animation Studios, including materials and light transport...no development required.
Photorealistic Images
Physically based shading allows RenderMan to deliver highly realistic lighting with minimal setup, including full support for multi-bounce ray traced global illumination and ray traced subsurface scattering. Much research and development has gone into making these traditionally expensive effects a production reality.
Created for Artists
Materials come fully loaded with all of the creative options for look development demanded by the shading artists at Pixar. Use Pixar Surface to create everything from glass to the most incredibly subtle skin you can image … and layer them on top of each other, for unlimited types of looks.
Analytic Physical Lighting
This new library of physically based lights offers standard features like color temperature, exposure, and IES profiles … but also includes specialized Light Filters which have been developed for feature film.
Physical and Artistic Hair
New artistic controls allow artists to control subtle nuances and variation in color and sheen, while also providing a more natural response to light with improved energy conservation
Extensive plugin support
RenderMan has seamless Xgen integration with Maya and supports the leading plugins, including Joe Alter's Shave and Haircut and Peregrine Labs' Yeti.
Built for Collaboration
RenderMan ships with the latest open source tools and comprehensive APIs so you can develop complex collaborative environments, for maximum pipeline flexibility.

For studios using the latest pipeline tech, RenderMan can render directly to USD Hydra. Learn how Pixar uses USD in our Pipeline.
A key aspect of RenderMan version 23 is support for the new Houdini 18 native USD "Solaris" workflows, enabled by RenderMan's USD Hydra delegate. These new tools are the result of close collaboration between SideFX and Pixar's RenderMan & USD teams.
RenderMan's subsurface approach significantly increases quality and realism when rendering skin and other soft or delicate materials.
Better Skin & Soft Materials.
RenderMan was the first VFX commercial renderer in the industry to ship with a physically based model for subsurface scattering, a truly accurate model for photorealistic skin based on deep path tracing and albedo controls. Check out a great article on the revolutionary VFX by Industrial Light & Magic on The Irishman.
RenderMan has a unique way of dealing with light transport, by giving artists and developers creative control over camera rays.
Cutting-Edge Light Transport
RenderMan provides 3 out-of-the-box production integrators, including Pixar's own integrator, Pixar Unified, which has been battle tested in all productions since Finding Dory and includes the latest tech innovations for Toy Story 4.

The integrator system provides all the necessary tools for studios to write their own integrators, allowing development teams creative and non-destructive freedom to experiment with cutting-edge technology, as exemplified in this Non-Photorealistic Rendering case study by Lollipop Shaders.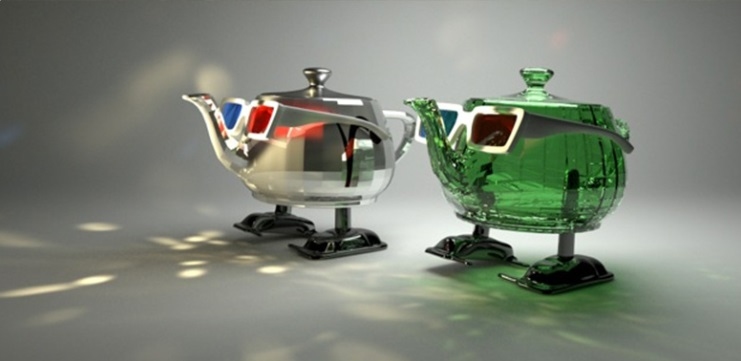 Smoke, fire, clouds, dust, OpenVDB... RenderMan can render it better and faster than ever.
RenderMan has the ability to resume interrupted renders, redefining the animation approval process.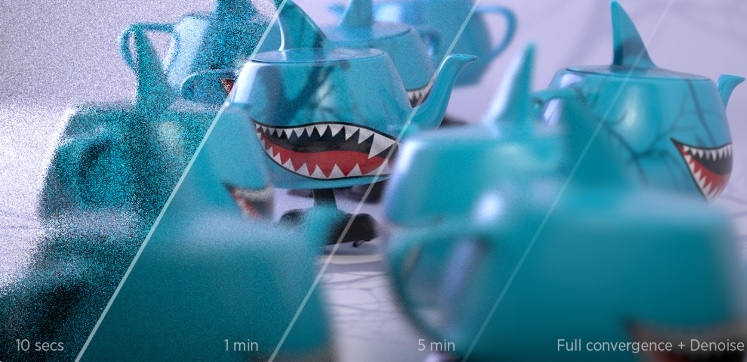 Checkpointing allows the renderer to make repeated passes over the image, refining it a bit more with each pass. While the image will be quite noisy during the initial passes, it is usually sufficient to give an impression of how the final image will look, instead of having to wait for a final frame, allowing daily reviews and more iterations of animated sequences.
Learn how checkpointing is helping the award-winning work at MPC.
RenderMan handles fur and hair fast and efficiently using the industry-leading Pixar Marschner Hair, developed at Pixar Animation Studios for feature film production.
Displacements are a core strength of RenderMan. With support for 32bit maps, PTEX, and vector displacements which can all be edited interactively.
RenderMan AOV and LPE passes can be edited interactively, providing artist friendly and robust workflows for compositing.
RenderMan provides elegant methods for breaking visual effects down into secondary passes for compositing, including DeepEXR and Cryptomatte support. With support for both AOVs and Light Path Expressions, RenderMan offers a multitude of ways of writing any element of a render (SSS, Diffuse, Shadows, Z-Depth, Object IDs, Per-Light AOVs, etc.) into many popular formats.
Intuitive Holdout Workflow
Compositing CGI elements over live action is crucial for VFX work and the new Holdout Workflow in RenderMan makes this process simple, making it straight forward to capture shadows, reflections, and other elements to combine them with a background plate during interactive rendering.
RenderMan ships with a production-ready Denoiser, which includes optimizations for Intel CPUs, and CUDA acceleration for NVIDIA GPUs.
Clean up sampling noise 2-4x faster with RenderMan's Denoiser! Developed by Disney for Big Hero 6, the Denoiser has been used on all Pixar films since Finding Dory. It has recently been upgraded with several new features, including full Intel CPU code vectorization. For Zootopia, Disney optimized the Denoiser to handle lots of fur and hair, while at Pixar the Denoiser was extended to support GPU acceleration, reducing the time required to denoise a feature film frame to seconds.
RenderMan can be used seamlessly with the leading Cloud Rendering solutions. 
Milk VFX chose RenderMan to deliver the very ambitious Dinosaurs in the Wild, and thanks to Google Zync, they were able to deliver 77 million frames at 4K resolution in under 3 months. Without the cloud, the same render could have taken 2 or 3 years to pull off. Take a look at the case study.
There are several RenderMan solutions for rendering in the cloud, providing extraordinary burst capacity.

RenderMan's motion blur and depth-of-field can mimic the behavior of real-world cameras, so RenderMan's synthetic images can realistically simulate their conventionally filmed counterparts.
RenderMan is fully capable of delivering high-resolution animation for VR, including the new omnidirectional stereo. Simply render with the VR camera.
In live action film, motion blur is the result of objects moving during the exposure of the film. The faster the exposure, the less things will blur. Conversely, a long exposure results in more motion blur. Audiences are quite familiar with the look of motion blur and creating this effect in 3D fast and efficiently is critical for convincing visual effects. Pixar's RenderMan can mimic the behavior of real cameras, with extraordinarily fast 3D motion blur.
By default, RenderMan renders scenes with an instantaneous shutter speed, an exposure which is impossible in the real world. However, without motion blur the effect would look unnatural, as moving objects would strobe across the screen, causing temporal aliasing. Thankfully RenderMan is extremely efficient at rendering motion blur and has a number of options to help tune the final look.
In the real world, when a camera focuses on a close object, the background can go blurry. This effect is known as the depth of field, and Pixar's RenderMan offers many controls for creating this effect. With Pixar's RenderMan, we can decide, depending on requirements, whether we want finite or infinite depth of field, an instantaneous shutter speed or a long one to create motion blur.
RenderMan provides us with several options to control how our virtual camera behaves, which is important for creating believable 3D imagery. Depth of Field in RenderMan is dependent on three main factors: the focal length of the lens, the diameter of the aperture, and the focal distance of the camera. With these controls RenderMan can convincingly emulate real film cameras.
Production Proven Render Management
Included with every purchase of RenderMan, Tractor is a modern and robust solution for network rendering, currently deployed at some of the biggest VFX studios in the industry.
RenderMan 23 Feature Reel from Pixar's RenderMan on Vimeo.

**FOR CUSTOMER(S) IN CHINA, HONG KONG & TAIWAN ONLY. PLEASE CONTACT SALES@ALTEC.COM.HK FOR USE IN OTHER COUNTRIES.