Description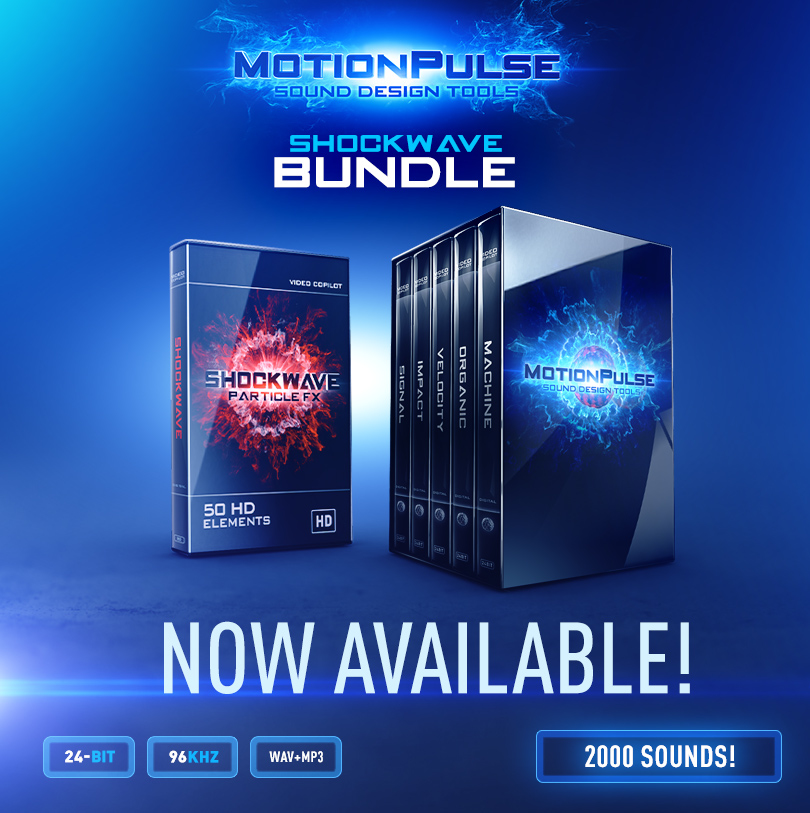 Video Copilot SHOCKWAVE Bundle Overview
The MotionPulse BlackBox & Shockwave Bundle from Video Copilot provides you with 50 Full HD shockwaves 
and a library 
of 2000 sound effects ideal for Movie Trailers, Motion Design, and Special Effects applications. The 
bundle features MotionPulse BlackBox, which includes all five MotionPulse packs, and Shockwave.
Shockwave is a digital stock footage collection of advanced particle animations - or shockwaves. Each elements 
was simulated with real world physics and comes pre-matted for easy overlaying and coloring. Shockwaves 
comes in 1080p resolution as 24fps and are available in QuickTime PhotoJPG, H.264, and ProRes 422 HQ formats.
Add sound to your shockwaves with MotionPulse. Designed to complement motion graphics design, the 
BlackBox 
collection features five libraries made up of 35 categories, providing a total of 2000 unique sound effects. The five effects 
libraries are: Machine, Velocity, Organic, Impact, and Signal. Each sound effect is fully mastered and can be used by itself, 
or layered together to create new sounds. The effects are available in WAV and MP3 files at 24-bit, 96 kHz quality, and 
ready for use in most audio/video applications.
Shockwave Advanced Particle Animation                                                         MotionPulse Blackbox
Attachments

Gear Up

Gear & Cranks

Locked Down

Metal Blades

Micro Madness

MiniBots

Pistons

Robotic
Atmospheric

Doppler FX

Drones

Epic Swishes

Gleams

Power Downs

Power Wooshes

Reverse FX

Riser

Space Atmosphere

Spin FX

Waves
Abstract

Air Pressure

Disintegration

Lifeforms

Liquids

Meat Slices

Medical

Splashes

Stress

Wind
Bass Drops

Crashes

Debris

Distortion Wave

Dramatic Hits

Metal Slicers

Quick Impacts

Slams

Sonic Pulse

Sub-Sonic Impacts

Trailer Hits
Analog FX

Beeps

Distorted Signals

Electrical

Glitches

Noise

Pulses

Record

Transmission
50 HD Shockwaves (1080p at 24fps)

For Visual FX or Motion Graphics

Pre-matted for easy coloring

QuickTime PhotoJPG, H-264 & ProRes 422 HQ video formats